Fire Alarm Systems
An automatic fire alarm system is designed to detect the unwanted presence of fire by monitoring environmental changes associated with combustion. In general, a fire alarm system is either classified as automatic, manually activated, or both. Automatic fire alarm systems can be used to notify people to evacuate in the event of a fire or other emergency, to summon emergency forces aid, and to prepare the structure and associated systems to control the spread of fire and smoke
Conventional fire alarm system
Addressable fire Alarm System
Hybrid fire detection systems
Fundamental configuration
Fire alarm control panel: This component, the hub of the system monitors inputs and system integrity, control outputs and relays information.
Initiating devices
Manually activated devices; manual pull station are constructed to be readily located (near the exits), identified, and operated.• Automatically activated devices can take many forms intended to respond to any number of detectable physical changes associated with fire: convected thermal energy; heat detector, products of combustion; smoke detector, radiant energy; flame detector, combustion gasses; carbon monoxide detector and release of extinguishing agents; water-flow detector. The newest innovations can use cameras and computer algorithms to analyze the visible effects of fire and movement in applications inappropriate for or hostile to other detection methods.
Conventional Fire Alarm Systems
Fire Alarm Systems fall broadly in to two groups – Conventional Systems or Analogue Addressable Systems.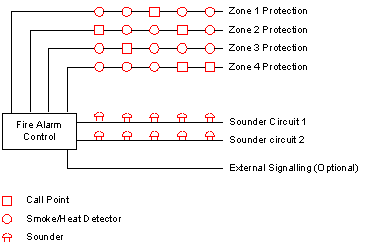 'Conventional' Fire Alarm Systems, in their various forms, have been around for many years and have changed little in that time in terms of technology although design and reliability have improved significantly. However, Conventional Systems are a well-proven technology protecting many hundreds of thousands of properties worldwide. A Conventional Fire Alarm System is often the natural choice for smaller systems or where budget constraints exist.

In a typical Conventional Fire Alarm System the 'intelligence' of the system resides solely within the Fire Alarm Control Panel which receives a trigger signal from a Conventional Detector or Call Point and in turn, signals the condition to other devices such as alarm sounders and remote signalling equipment.

Conventional detectors are normally connected to the Fire Control Panel via dedicated circuits, each circuit protecting a designated 'Zone' or 'Area' of the building (the maximum size of which will often be governed by local standards). Detectors have two states, Normal healthy and Alarm.
Addressable Fire Alarm System
Addressable fire alarm systems offer benefits in speed of detection, identification of the location of a fire and easier maintenance. Addressable fire alarm systems also offer tolerance to faults in the system wiring, which allows a single pair of wires to be used to connect up to 200 devices to the system, allowing cost savings in the wiring of large systems.

In larger installations, the benefits of improved maintenance and reduced cabling cost are overwhelming.

The price difference between Addressable systems and conventional systems has narrowed to such an extent that even for small installations, the use of an Addressable fire alarm system should be considered.
Featured Services